I had a super time at the Amadeu Antonio Art Prize 2023 ceremony, where I received 2nd place for my interdisciplinary project "Stones in Symphony". Many thanks to Jörg, who also deserves a part of this award. Congratulations to Nnenna Onuoha, who was the winner and congratulations to David Blum and the other nominees.
Click to view:

From the jury's statement:
"With 'Stones in Symphony', Maroula Blades has created a comprehensive, hybrid work of poetry, prose, art, and photography. Together with her musical partner, Jörg Heinrich, she composes music and films for her poetry, which she performs in both professional and educational contexts. Blades immerses herself in a wide range of topics, from poverty, identity, discrimination, and racism to the effects of climate change and the coronavirus pandemic. Maroula Blades' work spans an arc between personal and collective vulnerability and strength. With her work, she has created a multi-layered complex that she is continuously expanding at the highest level. If it weren't for Maroula Blades' independent art, there would be a lack of depth, orientation, and humanity, and last but not least, a lack of words and images."
Aus dem Statement der Jury:
"Maroula Blades hat mit 'Stones in Symphony' ein umfassendes, hybrides Werk aus Poesie, Prosa, Kunst und Fotografie geschaffen. Gemeinsam mit ihrem musikalischen Partner Jörg Heinrich komponiert sie Musik und Filme für ihre Poesie, die sie sowohl in professionellen, als auch in Bildungskontexten aufführt. Blades taucht in ein breites Themenspektrum ein – Armut, Identität, Diskriminierung und Rassismus, bis hin zu den Auswirkungen von Klimawandel oder der Corona-Pandemie, beschäftigen sie in Ihrer Arbeit. Maroula Blades Arbeit spannt einem Bogen zwischen persönlicher und kollektiver Verletzlichkeit und Stärke. Mit ihrem Werk hat sie einen vielschichtigen Komplex geschaffen, den sie kontinuierlich auf höchstem Niveau erweitert. Wenn es die eigenständige Kunst von Maroula Blades nicht gäbe, würde es an Tiefe, Orientierung und Menschlichkeit fehlen – und nicht zuletzt aber an Worten und Bildern."
Please read the article about the 'Amadeu Antonio Art Prize 2023' on www.tagesschau.de .

We are delighted to have our soundscape together with Samantha E. Harvey's visuals, published on the Syntropy States website. The title is "To Wander". 'To Wander' presents footage taken walking through a farm in Saudi Arabia (filmed by Haifa Aljuhani) which has been coloured and manipulated to create the sense of another world or dimension. The soundscape is inspired by communing with nature, which steadies, revitalizes and motivates one to have hope.
Created by Maroula Blades, George Henry and Samantha E Harvey.
Discover more about Maroula, George and Samantha at www.syntropyartists.com or click on the picture to see a short cut version of the video: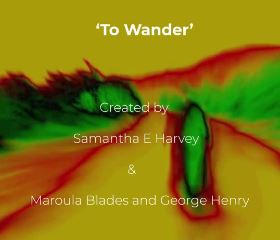 On the 1.07.2022, I had the privilege of being invited to perform a multimedia poetry performance titled "Bridging Divides" at the unveiling ceremony of W.E.B. Du Bois Memorial Plaque at Humboldt University in Berlin. Here are some extracts from the performance on youtube. Please click on the picture: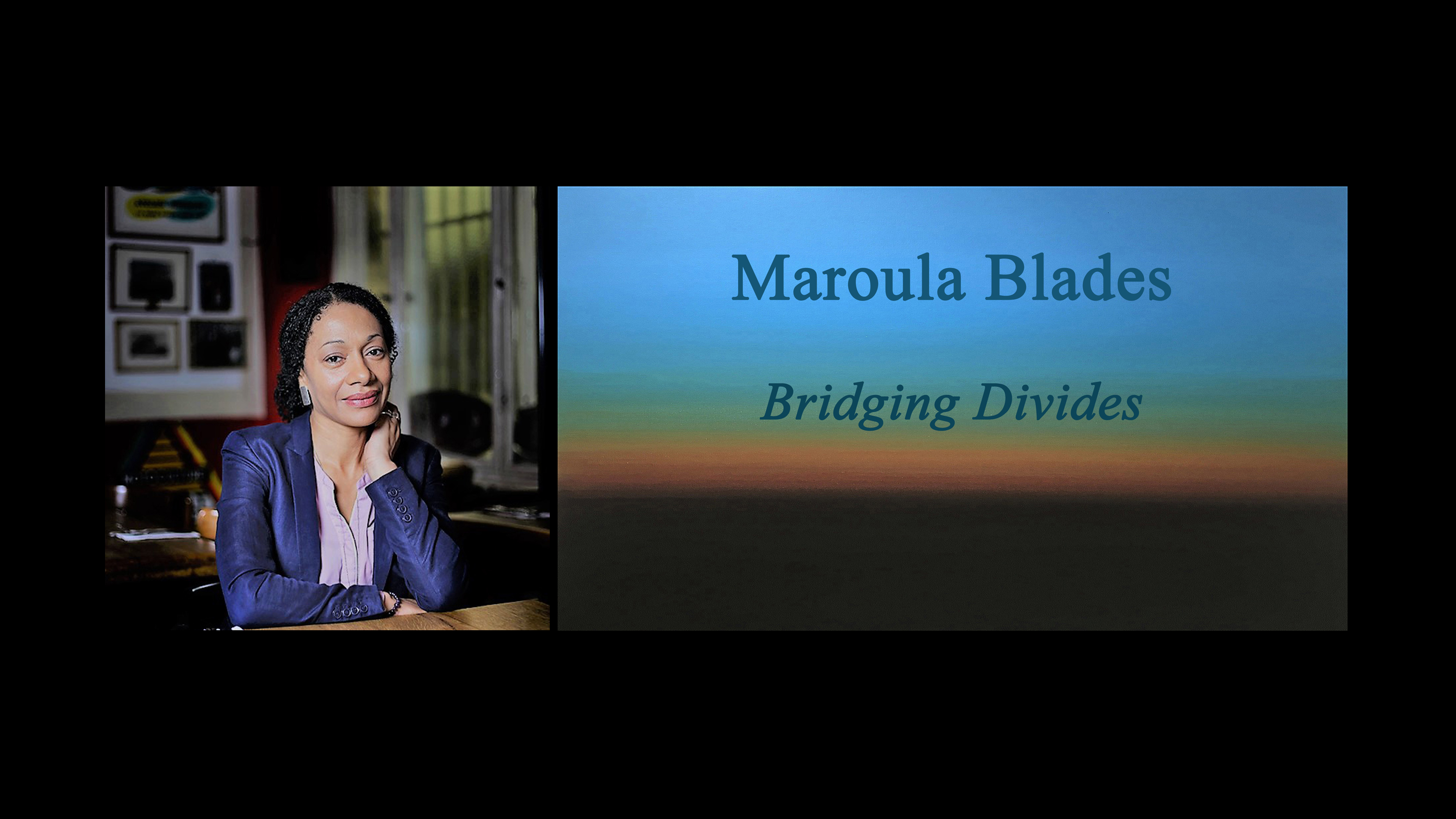 KAPUT – Magazin für Insolvenz & POP
New Interview on 16. February 2022 with Maroula Blades by Danielle de Picciotto
Greetings!
Many thanks to Danielle De Picciotto, who interviewed me. She wrote: "Here is my next interview for Kaput mag for my series on impressive female artists. This time with the wonderful Maroula Blades."
Maroula Blades: "I dream in English", interview by Danielle de Picciotto
Please click here to read the interview in English: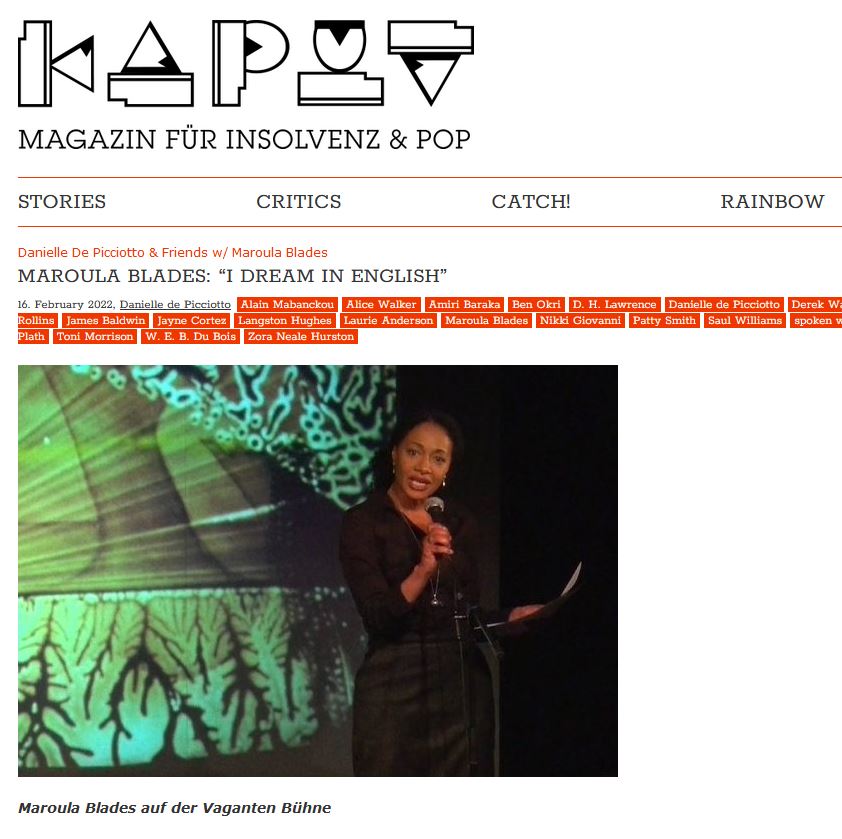 Please click here to read the interview in German:
KAPUT Magazin
Also I wanted to let you know that my flash fiction book, The World in an Eye, is being released as a hard copy now, but it can be ordered now on Amazon. The Kindle version is up and running, too.
I would appreciate your support in helping to spread the news! Here is a quick overview of the book: The World in an Eye is published by Chapeltown Books, UK (Chapeltown Books). The book presents diverse flash fiction stories set in America, England, Germany, Italy and other places where poignancy, rawness and sensitivity are propelled to the foreground. This evocative compilation also thrusts taboo topics out from the fringes into the spotlight. Here, they explore and expose the lives of those not fed with golden spoons.
Latest book reviews:
19th November 2020 – the Creative Writing News website: TWIAE book review
The first review for my book on Amazon in the United Kingdom on 18th October 2020:
"A thought provoking read. Each short chapter is full of rich poetic description of both the inner lives of the protagonists and the tough environments they live in. The stories are a window into people's day to day struggles but also how they respond to the dramatic and sometime shocking events around them. The language is accessible while at the same time being insightful and illuminating. Would thoroughly recommend this short read."
A recent review from someone who purchased The World in an Eye:
"A thoroughly enjoyable read: A collection of short stories that challenge the mind and bring awareness of real-life experiences affecting the vulnerable and marginalised. Written with humour and flair, the writer successfully draws the reader in to experiencing a journey of discovery. The clever storytelling provokes interest in topics which are very much woven into the fabric of Society."

Please consider purchasing one or more copies of the book here: Amazon



To those of you that purchase and like the book, please don't forget to write a review on Amazon. I would appreciate the effort.
I sincerely appreciate your support in helping me get this book launched with some momentum. Let me know if you have any questions or ideas for me.
Thank you!